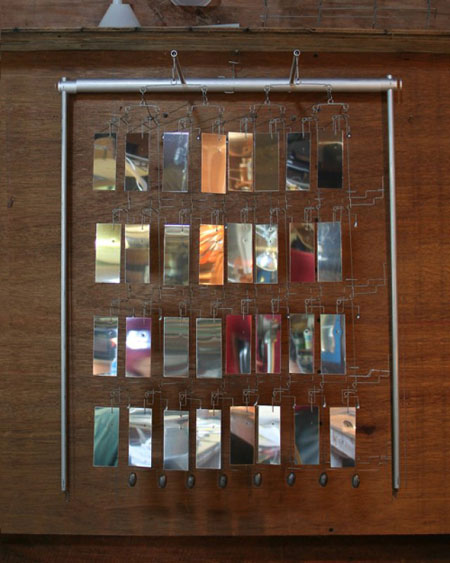 Tim Prentice
SMALL MIRROR CURTAIN IN FRAME, 2009
Polished aluminum and stainless steel
28 x 22 x 10 inches
71 x 56 x 25.4 cm
Trained as an architect, Prentice turned to full-time sculpture making over thirty years ago. His architectural background has enabled him to design sculptures with a sensitivity to their surroundings, whether they be for large public installations or more intimate private collections. In this exhibition, the artist further investigates the shape, form, and flow of wind currents in order to make air virtually visible. Constructed on "systems" of identically bent wire, the intricate structures and reflective metals he uses allow the sculptures to soar or undulate in response to their environment, creating delightful patterned movements for the eye. As one of the foremost kinetic sculptors working today, Prentice has executed literally hundreds of his whimsical and complex pieces for galleries, universities, museums, hospitals, airports, corporate offices, civic centers, and private collections around the world. A portion of the works in this exhibition were recently exhibited at the Mattatuck Art Museum in Waterbury, CT.
Maxwell Davidson Gallery
724 Fifth Avenue 4th Floor
New York, NY 10019
Phone: 212.759.7555
Web: www.davidsongallery.com