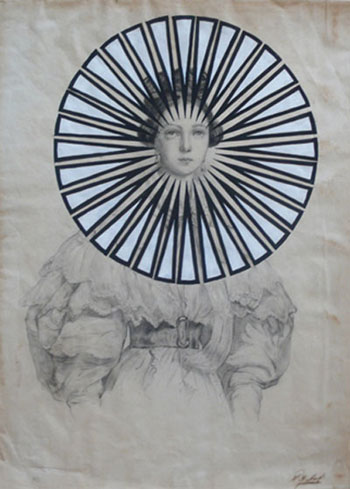 PETER SCHUYFF |Â UNTITLED | Acrylics on old drawing | Â 40 x 30 cm |Â Â 2009
Round and round and round it goes. There are some new paintings by Peter Schuyff in which the canvas is filled with a line – a thick wobbly painted line – one that swirls and twists in a big knotted web. One can't help but look at it and think, "I know the feeling." For over thirty years, Schuyff has been exploring, in the broadest sense, abstraction. Symbols, forms, icons of abstraction are taken by Schuyff and transformed and misassociated into paintings and drawings that are strange, funny, compelling. His works offers an endlessly inventive exploration of abstraction's possibilities and its relationship to the pictorial. This will be Peter Schuyff's first solo exhibition in Holland for over fifteen years.
His language is an expanding, distorting one of grids, targets, blobs, squares, chain-links. These pieces, either amorphous or hard-edged, are used in isolation and combination with each other. And recently letters, often writing his name, have been finding their way into the mix. A current part of Schuyff's practice comes from working over found drawings and paintings. One cannot deny how brutal it is to add something to another's work. Sure, artists are always quoting, pastiching, satirising each other, but to amend – and some would argue therefore to obliterate – another's original artwork…that's something altogether more problematic. What Schuyff offers, however, is a kind of reinvention. He perceives his role as one of reviving the mediocre – working on paintings and drawings collected from antique shops and markets, that often exhibit technical skill and are evocative of their era, but are ultimately undistinguished and likely to be consigned to obscurity. In his hands they take on another life, with a new dialogue opening up between his shapes and the drawings on which they rest.
For And the Woodwards, Schuyff will present a series of found drawings on paper over which he has added black and white forms. The drawings are atypical classic art subjects – portraits, profiles, studies of hands and feet – and Schuyff's contributions are poppy shapes such as arrowed frames around faces, scattered circles and cloud-like blobs. In one piece Schuff circles the face in a portrait of a young woman with long, sharp triangles. The rapid, rippled movement of these triangles somehow corresponds to the frilly, garnished dress of the sitter. It targets our attention on her face, creating also a humorous imbalance between her dour, bored expression and the brash punch of Schuyff's marks. What constantly surprises is that his additions make sense; they are a natural fit. Afterall, these bold, flat forms, over whispish antique drawings, should be jarring and inelegant. But the results create a new balance and movement within the composition – focusing the attention on certain areas, whilst obliterating others, and bestowing the sketches a muscularity, impact and visual movement.
In his paintings, Schuyff affords colour, shapes, weight to his forms. Some are paintings on found paintings, whilst others are full 'originals'. One untitled painting shows an overlaying series of squares. There is something at once simple and deceptively complex going in in this arrangement of colours; the tricks it plays in our reading of the shapes and the complications of depth derived from the rounded borders and shadows cast by the entire matrix. On top of all these convolutions and contradictions, Schuyff signs it – he writes P. SCHUYFF – big, bold, unapologetic – adding another pictorial element to the mix.
It seems incongruous – kind of goofy – to see these shapes which we associate with heady abstraction and, of course, flatness, presented with curves, shadows, depth. Indeed, there is consistently a cartoon-like attitude in his take on abstraction – one that is purposefully irreverent and non-sensical. His composition and handling of the paint, however, is entirely controlled and deliberate. In the looped-line paintings for instance, whether it is the regular, woven thread of 'Little Screen' or the chaotic mass of 'Big Gold', these dense bodies have a sophisticated understanding of composition, colour and technique. His handling of the paint is very considered, quite classical, successfully counteracting the surreal playfulness of the images, which often recall improvised, gestural painting and furthering their sense of quotation and displacement.
Currently living and working in Amsterdam, Peter Schuyff was born in Baarn, Holland, in 1958. He moved to Vancouver as a child and lived for much of the 80′s and 90′s in New York, where he was associated with the Neo-Geo movement alongside painters such as Peter Halley and Philip Taafe, exhibiting with Pat Hearn Gallery and Leo Castelli Gallery, as well as in Los Angeles at the Gagosian Gallery. Recent exhibitions include Galerie Karl Pfefferle (Munchen), Studio d'Arte Rafaelli (Trento) and Nicole Klagsbrun (New York). His works are in such collections as The Museum of Modern Art, New York,  The Metropolitan Museum of Art, New York, The Fisher Landau Center for Art, New York and the Saatchi collection .
Alongside painting, Schuyff performs and records music as The Woodwards.
Opening reception:  Saturday 28 November 2009, 5:00 — 7:30 pm
AFTERPARTY:Â  THE WOODWARDSÂ Live in concert, Showtime: 9:30 pm
Bitterzoet
Spuistraat 2
1012 Â TS Amsterdam
Telephone: 020 – 42 123 18